teeworlds-0.4.2
Par Remi le vendredi 8 août 2008, 19:13 - RPM - Lien permanent

A quick made and dirty RPM of Teeworlds (formerly teewars) is available in remi-test repository.

Un RPM vite fait / mal fait de Teeworlds (anciennement teewars) est disponible dans le dépôt remi-test.
Mes enfants (Romain 9 ans et Valentin 12 ans) sont passés sous Fedora depuis peu (certains diront "seulement !", oui : j'ai honte).
Donc je suis actuellement à la recherche de tous les jeux possibles pour satisfaire leur curiosité (pas envie de ma battre avec Wine).
Un ami m'a conseillé ce petit jeu, déjà adopté par les enfants.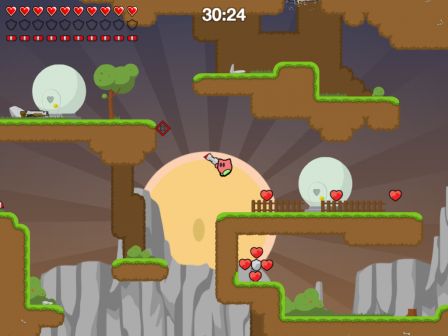 Je vous en fait profiter en publiant les RPM pour
Sulphur
et
Werewolf
(bricolés à partir d'un .src.rpm pour Suse). Si quelqu'un veut le prendre en charge pour les dépôts, pas de soucis.
Comme toujours, un petit coup de yum :
yum --enable remi-test install teeworlds
Pour le téléchargement, voir : le dépôt.