Listen - Ticket 746
Par Remi le dimanche 17 février 2008, 12:12 - RPM - Lien permanent

I use listen to play music. Today I've posted and RFE in Ticket 746. You can try it using RPM avaliable in remi-test repository for Fedora 8.

J'utilise listen pour écouter de la musique. J'ai proposé aujourdh'ui une demande d'amélioration dans le Ticket 746. Vous pouvez l'essayer en utilisant les RPM disponibles dans le dépôt remi-test pour Fedora 8.
Comme ma bibliothèque musicale contient près de 9000 titres (oui, j'ai les CD originaux), ma liste d'artistes est très longue, mais contient beaucoup d'artistes avec très peu de chansons, souvent à cause des compilations.
Avec cette amélioration, il est désormais possible d'ignorer dans le navigateur les artistes en dessous d'une limite configurable dans les préférences.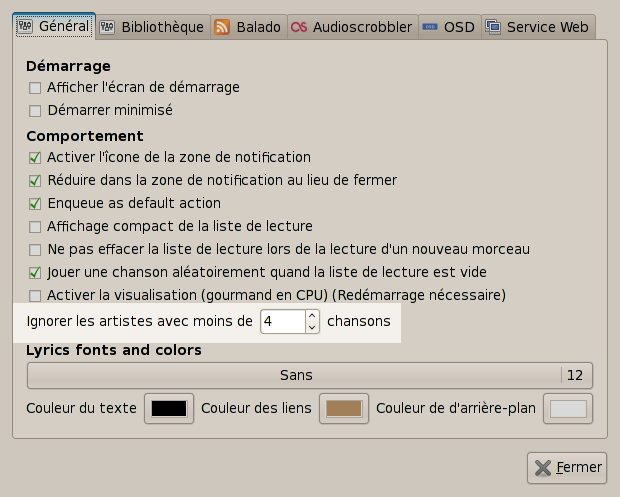 Je divise ainsi le nombre d'artiste par 2.
L'installation la plus simple consiste, bien sur, a utiliser yum !
yum --enable remi-test update listen
Pour ceux qui préfèrent le téléchargement et l'installation à la main :
Vos commentaires sont les bienvenus.